Thank you!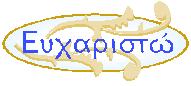 I just don't believe it! I am so thrilled to have received not ONE but TWO awards. You spoil me (and I like it!)! But you also inspire me! These are very special awards to me since I received them at a time that I was absent from blogging and my readers knew that since I had notified all my readers at this post. Still Happy Little Feet and Dawn's Disaster didn't forget me, they believed in me and thoughtfully nominated me for these awards. For that, I am very touched and grateful. It's good to know that people actually miss you and want to hear from you!
Well, let's see these awards. I received the Versatile Award from Happy Little Feet and the Sisterhood of the World Bloggers from Dawn's Disaster - two lovely ladies with fabulous blogs. Thank you my friends! You should check them out if you haven't already!
Here are the Rules for the
1) Add the award to your blog.
2) Thank the person who presented it to you
3) List seven random facts about yourself.
5) Pass the award onto seven other bloggers.
6) Inform each blogger they have won by posting a comment on
their blog.
7 Things about myself
1) I love dancing!
2) I am a control freak! (I think I've said that before)!
3) I love horses!
4) I miss Kraft's 'Macaroni and cheese' - we don't have it in Greece!
5) I love travelling!
6) Before kids I knew how I was going to be this cool
mom and everything would run smoothly in the
house and my kids would be behaving perfectly, etc.
etc. etc.....Well, you know how the 'after the kids
story' goes!
7) I love my coffee!!!
7 People I'm nominating
1.
http://abooksandmore.blogspot.gr/
2.
http://xcartwright.blogspot.gr/
3.
http://www.howtosurvivelifeinthesuburbs.com/
4.
http://raisingahappyfamily-momof8.blogspot.gr/
5.
http://babyboomerlaughline.blogspot.gr/
6.
http://www.thoughtsofamothernms.com/
7.
http://www.wonderfullydysfunctional.com/
Here are the Rules for the
The Sisterhood of World Bloggers:
1. Thank the blogger who gave you the award.
2. Post 7 things about yourself.
3. Pass the award on to 7 other deserving bloggers, letting them know they've been chosen.
4. Include a logo of the award in your post.
7 (more) things about me
1) I can now say to my kids what my grandpa used to tell me:
"Where you are now I was and where I am now you shall be!"
2) Challenges make me even more stubborn!
3) I love souvlakia/gyros! (wouldn't be Greek
if I didn't!)
4) I love the night life! ... I just don't remember what it's like
anymore!
5) My favorite TV show right now is "Game of
thrones"!
6) I like taking photos and putting them (chronologically, of course )
in photo albums! No digital frames for me! Call me a romantic!
7) I hate alarm clocks!!!
7 People I'm nominating
Congratulations to all!
All photos are courtesy of Google images and
glitter-graphics.com